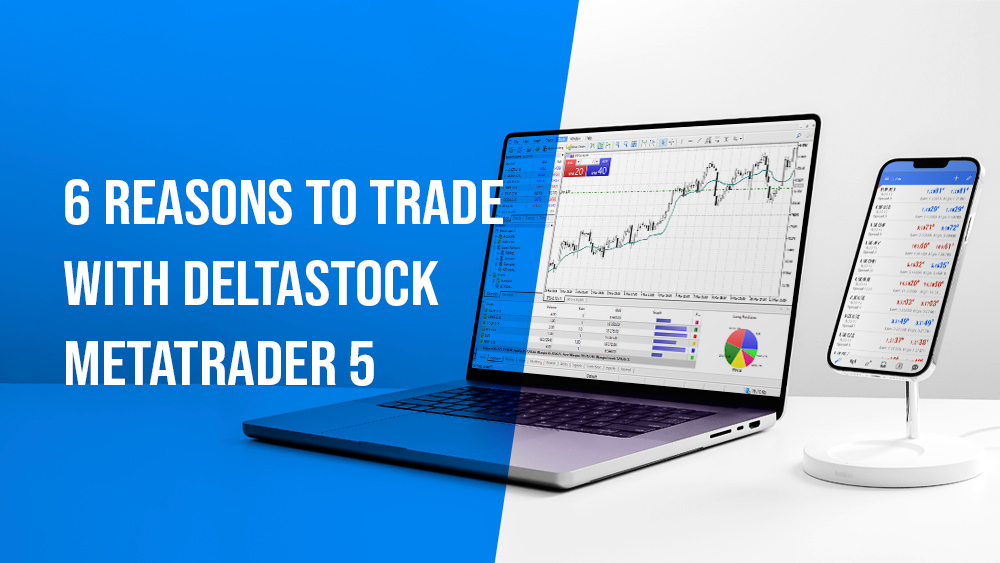 Author: DeltaStock

Reading time: 4 minutes
Have you ever wondered why so many traders swear by the MetaTrader platform? Well, our team of expert market analysts finally have the answer!
Join us as we look at 6 reasons why Deltastock MetaTrader 5 has become the trading platform of choice for thousands of traders – and why it could be yours, too.
1. CFDs on over 800 financial instruments
Unlike its predecessor Deltastock MetaTrader 4, where you could primarily trade forex pairs, with Deltastock MetaTrader 5 you can trade CFDs on:
– Forex: close to 80 major and exotic forex pairs await you
– Shares: Apple, Airbnb, Netflix, Nike, Tesla, Boeing and more
– Indices: leading U.S., European and other indices
– Commodities: U.S. (WTI) and UK (Brent) oil
– ETFs: 50+ exchange-traded funds covering a variety of sectors
– Cryptocurrencies: popular cryptocurrencies, such as BTC, Ether and more
2. Many timeframes to choose from
One of the reasons why MetaTrader 5 has become a leading trading platform on a global scale has to do with its wide selection of timeframes (21 in total). For comparison, MetaTrader 4 – its predecessor – sported a selection of just 9 timeframes. You can access the timeframe menu by right-clicking a desired price chart → "Timeframes".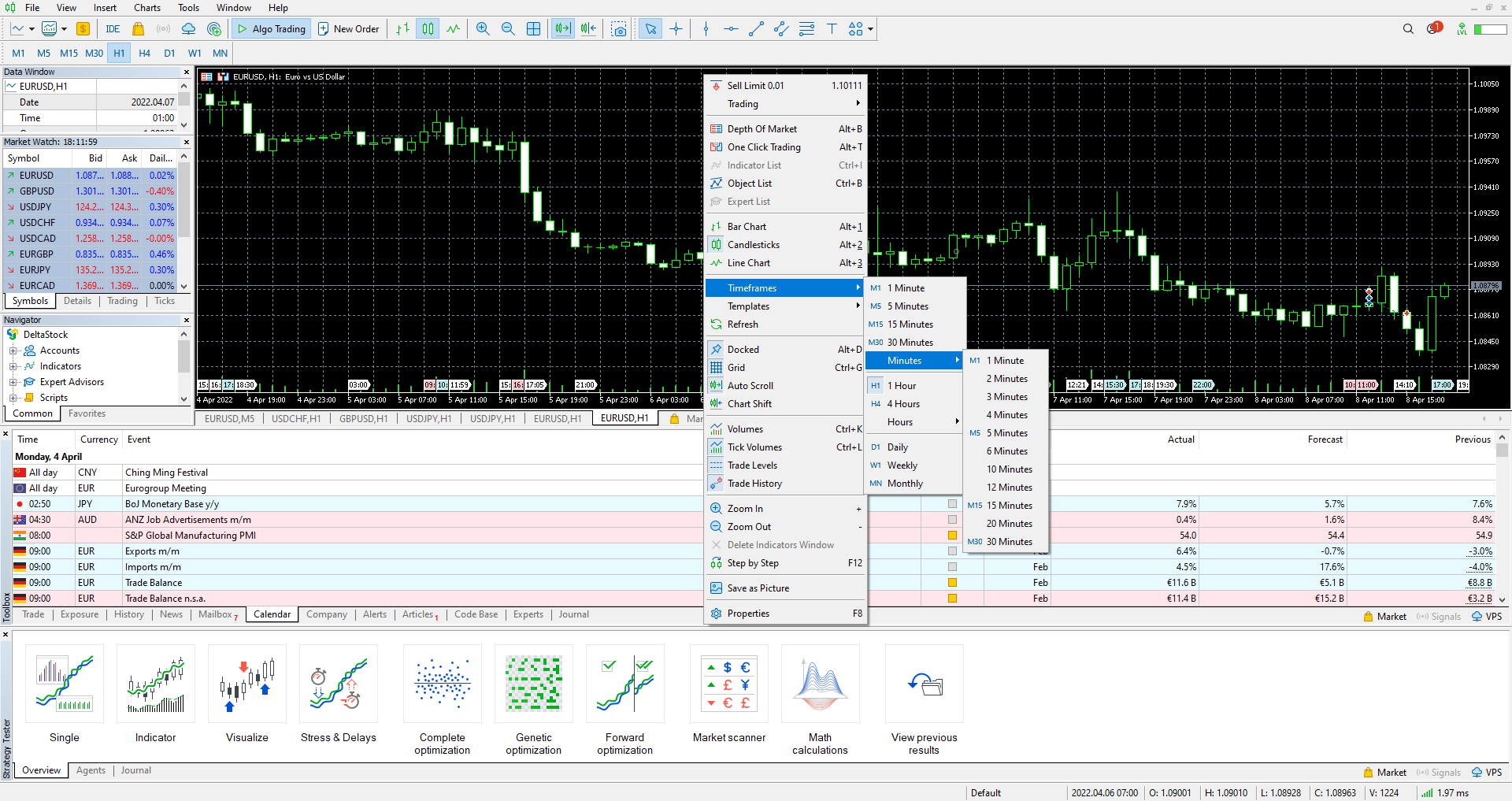 Pictured: selecting a minute-based timeframe
3. Flexible risk control tools
Depending on your strategy, with Deltastock MetaTrader 5 you can take advantage of a total of 6 pending order types. With the help of pending orders, you can instruct the trading platform to buy or sell a given asset when its price reaches a predetermined amount. These orders are:
– Stop-loss: automatic position closing when the market moves against you
– Limit buy/sell: automatic buying or selling of an asset when it reaches a price set by you
– Stop limit buy/sell: a combination of a stop and a limit order which places a limit order for buying or selling once the asset reaches a predetermined stop level
– Take profit (a type of limit order): automatic closing of the position when a price rises to a level set by you
You can learn more about some of these order types here.
To place a pending order, open a price chart of the instrument you wish to trade and either click on "New order" or press "F9". After that, choose "Pending Order" from the "Type" dropdown menu and specify the type of order that you wish to use.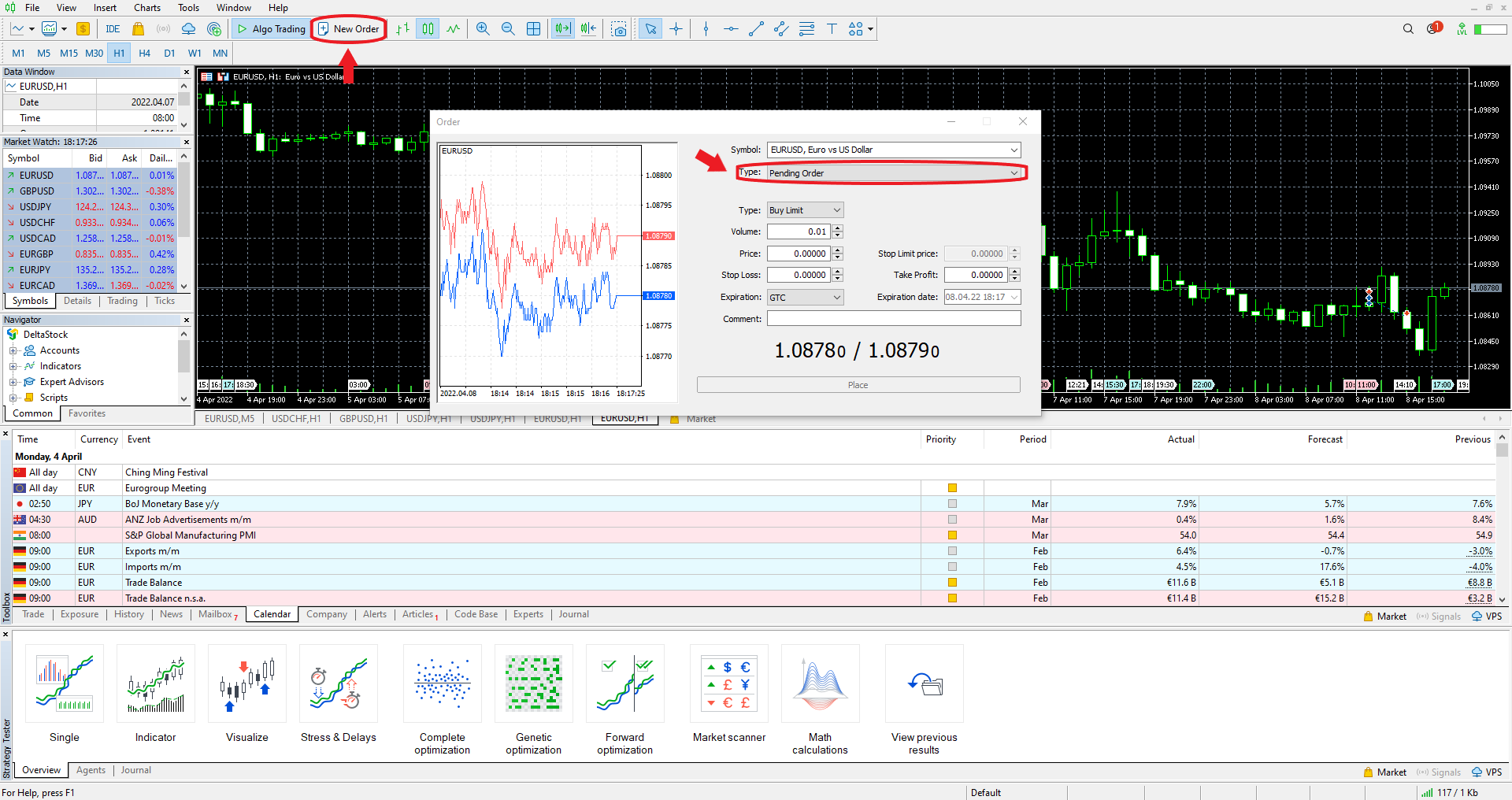 Pictured: choosing a pending order type
When placing a market order, you can also directly attach a limit and/or a stop order to your open position, which will come into effect as soon as the market order is executed. This will allow you to better manage the market risks from the moment you place your buy or sell order on a given financial instrument, and in doing so, improve your chances for success.
To attach a pending limit or stop order to your market order, simply type in the desired values in either the "Stop Loss" (stop) or "Take Profit" (limit) fields.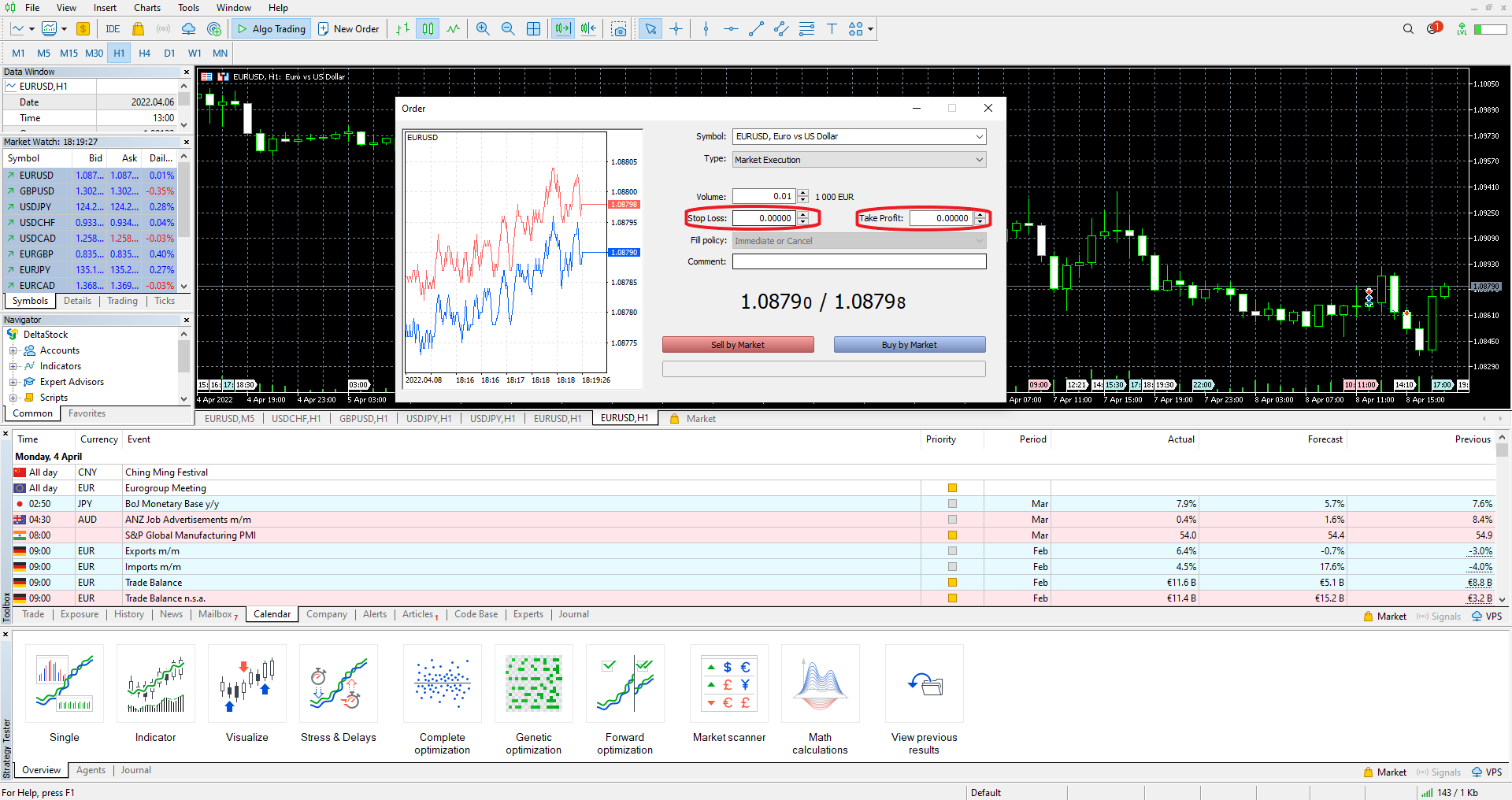 Pictured: attaching a stop and a limit to a position
In conclusion
We hope that the information we've just shared with you will come in handy when preparing your trading strategy. We would also like to suggest that you try out the free tools on our website, found under the "Resources" tab, such as our daily technical analysis, currency converter, market stats and more.
Until next time and happy trading!
***
Ready to venture outside of your comfort zone? Take the next step – invest in CFDs on over 800 financial instruments from any part of the globe with a minimum account opening deposit of €100 or $100.
Disclaimer: This article is for information purposes only. The information herein provided does not constitute a buy or sell recommendation for any of the financial instruments herein analysed.
Deltastock AD assumes no responsibility for errors, inaccuracies or omissions in this article, nor shall it be liable for damages arising out of any person's reliance upon the information on this page. Deltastock AD shall not be liable for any special, indirect, incidental, or consequential damages, including without limitation, losses or unrealised gains that may result.