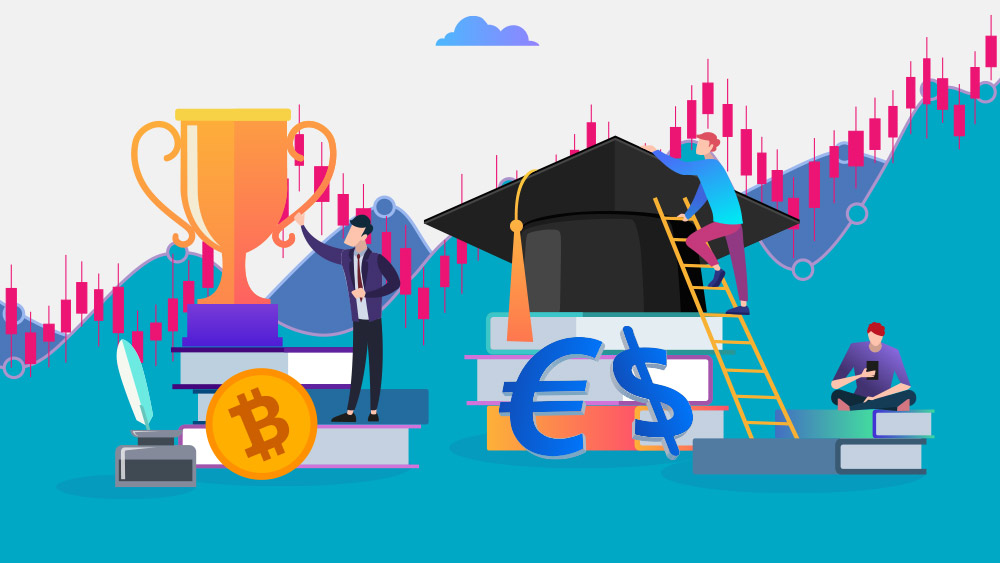 Collage: DeltaStock | Source: Dreamstime
Reading time: 2 minutes
As you know, it takes roughly 10,000 hours to master a skill, and online trading is no exception. That being said, we firmly believe that no one should be left to fumble alone in the dark while learning a new skill, which is why we have created our interactive "Learn" section for beginner and advanced traders. 
Here's a quick sneak peek at what you can expect.
Whether you're a novice or a pro, we have you covered
Regardless if you've never traded on the markets before or are just looking for a quick way to brush-up your knowledge, we believe that our free trading lessons will help you discover a whole new world of possibilities and bring you one step closer to your goals.
Our lessons are split into two sections: "Beginner" and "Advanced". In case you're just making your first baby steps into the world of trading, we highly recommend that you start here as this section contains everything you need to know about the different asset classes, how to read and analyse key financial data, manage risk, and build your very first trading strategy.
A quick glimpse of what you can expect to learn
Some of the topics covered in our lessons include:
– What is leveraged (CFD) trading and how it differs from investing
– An overview of some of the most popular financial assets
– How to read price charts, price quotes, and trade assets online
– How to calculate average price, overnight positions, dividends and interest 
– An introduction to the art of technical and fundamental analysis
– Risk control strategies and how to use trading orders
– Common trading mistakes and ways to avoid them
– How to build your very first trading plan from scratch
We realise that your time is valuable and so we've made an extra effort to organise all topics in a clear and concise manner to help you quickly find what you need. In addition, we've also provided an abundance of examples, infographics, and sound trading practices, as well as multiple choice quizzes at the end of each lesson to practise what you've just learned.
In the meantime, we suggest that you open a free demo account and study our Delta Trading platform so that you can immediately put what you've learned into practice in real market conditions, without risking real funds!