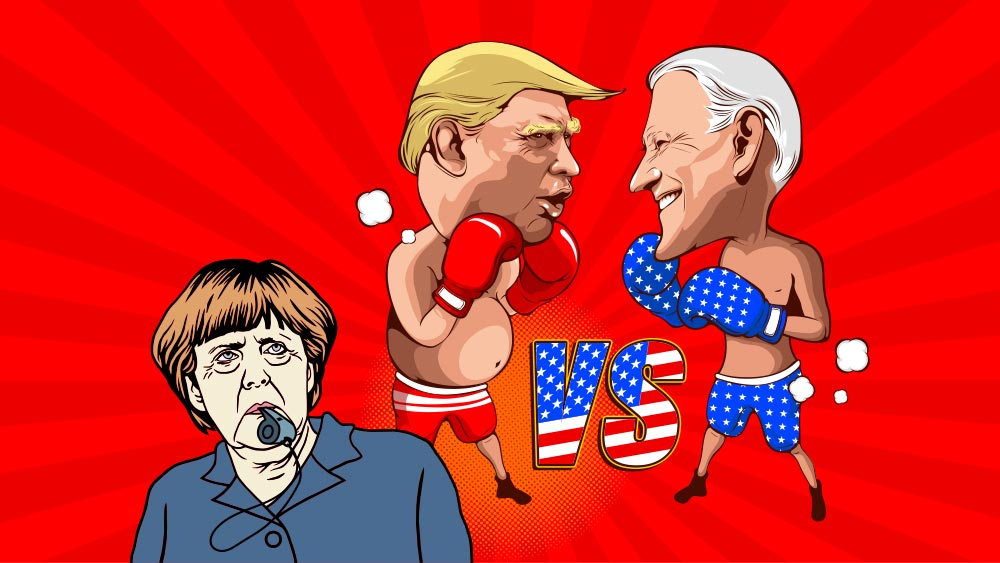 Source: Dreamstime

Reading time: 7 minutes
In the past four years, it has become apparently clear that Europeans are not especially fond of Trump's presidency. So much so, in fact, that, according to the Pew Research Center, some would go so far as to place more faith in Chinese President Xi Jinping – the heart of a well-oiled Communist regime – in "doing the right thing" than in the current U.S. president.
This is why Brussels and Europe, in general, have placed such great hopes on Joe Biden – the presidential candidate who is believed to be able to reforge the transatlantic alliance, re-enter the U.S. in the Paris Agreement and revoke the trade tariffs, imposed by the Trump administration, on China and the U.S. allies, among other things. But will this really be the case?
Let's take a look at both candidates and what each of them might have in store for the United States and, consequently, the European economy.
Trump and Europe
In 2016, Donald Trump's election took almost everyone by surprise, largely because of his mostly underestimated presidential campaign to "Make America great again". What followed was the most turbulent four-year term the country has seen in quite some time. In retrospect, in just four years, Donald Trump has successfully managed to:
– Strain the relationship with China. In 2018, Trump started what has now become a two-year trade war between the two countries, levying taxes on most of China's exports and forcing both Chinese and U.S. businesses to go through significant internal restructuring in order to adapt to the rapidly changing economic landscape.
– Withdraw the country from the Paris Agreement. Under the Trump administration, the U.S. exited the crucial pact of the leading world economies that focuses on mitigating the effects of global warming by lowering greenhouse-gas-emissions.
– Voice his distrust in NATO. Trump sees NATO as a system for shielding Europe with American taxpayers' money, and has repeatedly soured relations with Europe by urging all countries on the continent to invest more funds in their own military and defence.
– Be supportive of far-right nationalist views and Eurosceptic figures.
– Formally move to withdraw the U.S. from the World Health Organization (WHO) as early as July this year. If Trump gets re-elected, this would mean that, by July 2021, WHO's biggest charity funder will no longer be part of the organization.
Biden and Europe
"The EU is the largest market in the world. We need to improve our economic relations. And we need to bring an end to the artificial trade war that the Trump administration has started . . . [and] that has been poisoning economic relations, costing jobs and increasing costs for consumers."
Tony Blinken, senior adviser of Biden 
In Joe Biden, many Europeans see an instrument for undoing most of Trump's aggressive policies: he has been cited to advocate a multilateral political approach, has vowed to rekindle the relations with countries who have otherwise been wronged by Trump, and is a keen supporter of the fight against global warming, promising a two-trillion-dollar climate change package with a focus on clean energy, reduction of greenhouse emissions, and improvement of infrastructure.
What the 2020 U.S. elections could spell for EU investors
"We fear that the U.S. election is the biggest political risk we have seen in several decades. . . . Our job is to define consensus vs. reality and here we feel that the market is not properly pricing in both the risks of a contested result . . . or a clean sweep by Biden. Since both are a risk, this means [market] volatility could rise dramatically."
Steen Jakobsen, chief economist at Saxo Bank
As the election day draws nearer, many investors have now begun to wonder what a Republican or a Democratic win could bring to the global economic table. According to a recent report made by UBS – a Swiss multinational investment bank and financial services company – the upcoming presidential election is particularly relevant to Europe in two particular fields: trade relations and foreign policy.
Trump reelection: the good, the bad, and the ugly
In the words of Gérard Araud, a former France ambassador in Washington, a possible re-election would mean that Trump could "feel totally unleashed and have no limitation". Here is what analysts believe will happen during another term under the Trump administration:
– U.S. dollar. So far Trump's policies, including a significant stimulus program, repatriation of foreign earnings, and deregulation of industries, have only strengthened the country's currency and this trend is expected to continue should Trump be re-elected. 
– Stocks. Energy stocks, automation, and robotics are believed to benefit from Trump's election the most. In the meantime, higher tariffs could add further pressure to export-oriented industries, including certain car, luxury, and spirits companies.
– Foreign policy and trade. Further deregulation efforts could lead to global markets characterised by neutral growth and high uncertainty. Further deterioration of trade relations between the U.S. China is also expected. In addition, Trump could completely withdraw the country from NATO or spill the U.S.-China trade war over to Europe.
– Interest rates and inflation. According to UBS, these numbers are estimated to remain more or less the same in the upcoming years.
– Response to the COVID-19 pandemic. A Trump election victory carries the risk of a continued mishandling of the pandemic, leading to more unnecessary deaths.
What could happen under a decisive Biden win
Here is how economists envision four years under a Biden administration:
– U.S. dollar. According to a projection made by UBS, a Democratic win will speed up the weakening of the U.S. dollar against the euro. This comes as a result of the current dollar being strongly overvalued against the euro and the pound.
– Stocks. The automotive industry, utilities, and sectors, such as smart mobility, renewables, and energy efficiency would be relative winners, while steel tariffs are expected to be reversed. Meanwhile, investor uncertainty could arise alongside a rollback of Trump's stimulus packages, while new policies may not offer the financial support needed by U.S. companies and the economy in general. Price losses on the stock market are expected to follow shortly after the U.S. election.
– Foreign policy and trade. Trade tensions between the U.S., Europe, and China are expected to subside. A multilateral approach to global affairs, especially in matters concerning NATO, the World Trade Organization and the issue of digital taxes, is probable. Major tax hikes in the U.S. and excessive labour market regulations are also a possibility. If passed, the latter could significantly affect export-oriented Europe.
– Interest rates and inflation. No significant changes are expected under the Biden administration, either.
– Response to COVID-19 pandemic. It is widely believed that Joe Biden will learn from the mistakes of the Trump administration and do a better job of preparing the country against the second coronavirus wave, although whether this will ring true remains to be seen.
Conclusion
It takes one quick look at Joe Biden's and Donald Trump's political agendas on the domestic front to see that they have conflicting views on almost all important topics.
– Healthcare: both are promising to decrease the price of prescription drugs, but Biden is also looking into ways to protect abortion access, plans to invest $775 billion in child and elder care, and vouches to create a public option health care plan that expands off the Affordable Care Act.
– Immigration: Trump promises to finish the border standing between the U.S. and Mexico and impose even harsher restrictions. Meanwhile, Biden plans to revoke all current restrictions imposed by the Trump administration, do away with the border wall, expand resources to immigrants already residing in the United States and more.
– Unemployment insurance: while the Trump administration is still seeking ways to deal with the fallout from the record-high unemployment claims due to the COVID-19 pandemic, Biden has already vouched to get all 50 states to adopt and scale up short-term compensation programs.
From an economic standpoint, however, no matter who wins the keys to the White House, only a modest rise in interest rates and inflation are expected, according to UBS. In fact, these figures are projected to remain "very low" for several years following the elections.
Meanwhile, on the international front, it is still too early to gauge the extent to which the positives from a Biden term would outweigh the negatives of another four years of Trumpism when it comes to Europe in particular. All we could say for sure is that, regardless of who wins the elections, Americans will have another four turbulent years ahead of them.
***
Open a free demo account with €10 000 through Delta Trading. With a demo account, you can trade U.S. stocks, indices, gold and silver and a variety of other instruments in a real market environment, without risking real funds.