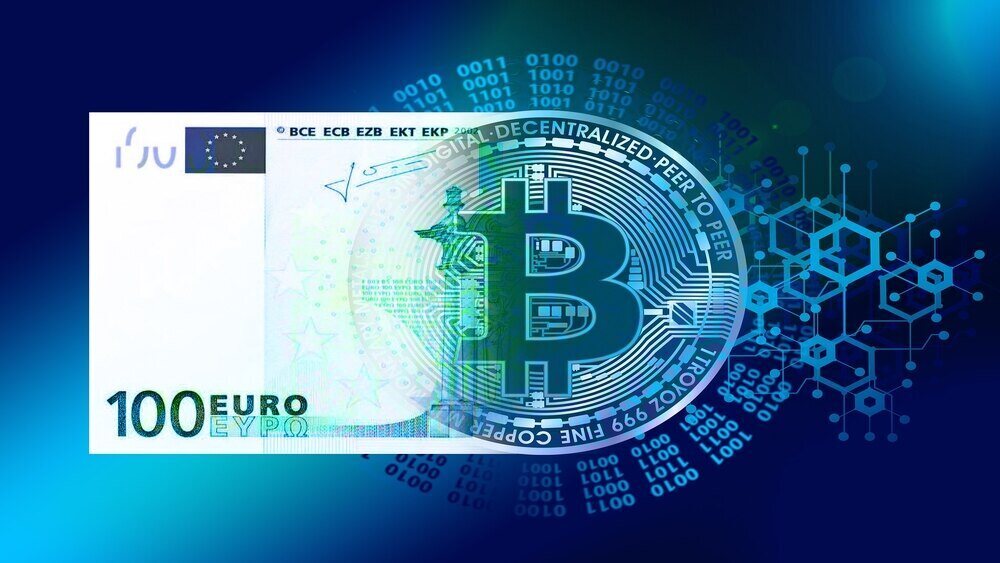 Source: Pixabay | Photographer: geralt

Reading time: 6 minutes
In an age of fast-spreading viruses and instant contactless payments, it makes perfect sense that the nations of the world are toying with the idea of bringing their currencies in the digital realm. Following the steps of People's Bank of China and Sweden's Riksbank, at the beginning of October, the European Central Bank was the latest financial institution to propose the digital equivalent of its official currency – the euro.
What is a digital euro?
In October, the ECB published a thorough report on the possible issuance of a digital euro. In it, the bank describes this virtual alternative as an "electric form of central bank money accessible to all citizens and firms" that would also be legal tender. The idea here, it argues, is to facilitate faster payments while also making them more secure.
However, the central bank pointed out that it doesn't plan to completely replace physical cash. Instead, it sees digital euro as an alternative payment and investment method that would complement the physical banknotes and allow individuals to store their funds directly within the ECB. In theory, the latter should provide an extra layer of protection for investors as opposed to commercial banks, which could go bankrupt at any given time.
Moreover, just like cash, the digital euro is planned to be just as easily stored outside of the banking system, this time via "digital wallets". As for how this digital currency will be issued and transferred between accounts, the ECB is planning to implement а blockchain system, similar to the ones currently used by a variety of cryptocurrencies, such as the popular Bitcoin. Unlike cryptocurrencies, however, its value will be firmly tied to the central bank itself.
Why issue digital euro now?
"The euro belongs to Europeans and our mission is to be its guardian. Europeans are increasingly turning to digital in the ways they spend, save and invest. Our role is to secure trust in money. This means making sure the euro is fit for the digital age."
Christine Lagarde, President of ECB
In ECB's view, there are several reasons why Europe should be ready to release a digital equivalent of its common currency in the near future. One is the increased demand for electronic payments in the eurozone, which highlights the need for better-protected money transfers – something that a blockchain-powered currency should be able to provide.
Secondly, the ECB feels that while we have an abundance of payment choices within the euro area, such as cash, digital bank deposits, and credit/debit cards, we still don't have a uniform digital currency that could handle all of our daily transactions, regardless of their scope. Another reason, no doubt exacerbated by the spread of COVID-19, is the significant decline in the use of cash as a means of payment within the EU. This trend is noticeable even in countries like Germany and Spain where, until recently, cash was king. 
Last, but not least, the ECB may feel as though it is falling behind its current "competitors" – People's Bank of China, which began trial use of its digital yuan in four major cities earlier this year, and Sweden's Riksbank, which has been testing a virtual equivalent of its krona for several months now. The central bank is worried that, if everyone were to suddenly switch to a virtual currency that operates outside of Europe's reach, it could significantly reduce the effectiveness of its monetary policy measures and destabilise the eurozone as a result.
Digital euro: the positives
"Technology and innovation are changing the way we consume, work and relate to each other. A digital euro would support Europe's drive towards continued innovation. It would also contribute to its financial sovereignty and strengthen the international role of the euro."
Fabio Panetta, member of the ECB's Executive Board
The bank argues that, when it arrives on the market, the digital euro may be used just as seamlessly as cash to pay anything, anywhere. It also argues it would bring simplicity to the table – the virtual equivalent will be designed in such a way as to be understood by anyone, regardless of age or social status. It would also be a much more convenient way to store money – all we would need will be our phones, which we tend to bring everywhere we go.
By being backed by the ECB, the virtual currency will also adhere to all guidelines and requirements on countering money laundering, the financing of terrorism and tax evasion. Finally, the digital euro will provide better user data protection since, unlike private suppliers of payment services, the ECB won't have any commercial interests in your consumer data.
Digital euro: the negatives
Among the biggest worries is that, once the digital euro is integrated, people might prefer digital over traditional accounts, which would eventually weaken the retail banks in the euro area. The ECB argues that this risk could become even more prominent in times of crisis, when "savers might be tempted to flee to the safety of a "digital euro" and trigger a run on traditional banks". One solution to this would be to propose a limit to the number of digital euros that each citizen could own or exchange. 
Another potential weakness of the digital euro is that it may not be sufficiently equipped to protect the economy from money laundering schemes or its citizens from cyber attacks aimed at acquiring sensitive user information.
When could we start using digital euro?
On October 12th, the ECB launched a three-month public consultation with the aims of reaching out to anyone within the EU: from citizens and merchants to academics and professionals in the financial sector to get feedback on the digital euro's overall design, as well as on the potential complications that could stem from injecting it into the current financial ecosystem.
Depending on the feedback and once six additional months of intense experimentation have passed, the ECB's Governing Council will rule sometime around mid-2021 whether to put the plan into motion or not. That being said, don't expect to try out the digital euro for yourself anytime soon as a source close to the project told Agence France Presse that this whole process may take anywhere "between 18 months and three to four years".
Conclusion
The implementation of a digital euro is more than just a technical question – it is an ethical concern as well, which is why the ECB is probably so keen on hearing what everyone has to say on the matter. However, even if the idea gathers strong initial support from the public, there are still quite a few hurdles on the road ahead, such as privacy issues and the implementation of effective money laundering measures, among other things. If, however, the ECB plays its cards right and manages to bring the project to life in a way that satisfies all users, we just might witness the next revolution in the financial sector.
***
Open a free demo account with €10,000 through Delta Trading. With a demo account, you can trade all major and minor currency pairs, such as EUR/USD or EUR/GBP, as well as exotic currencies and other instruments, in a real market environment, without risking real funds.