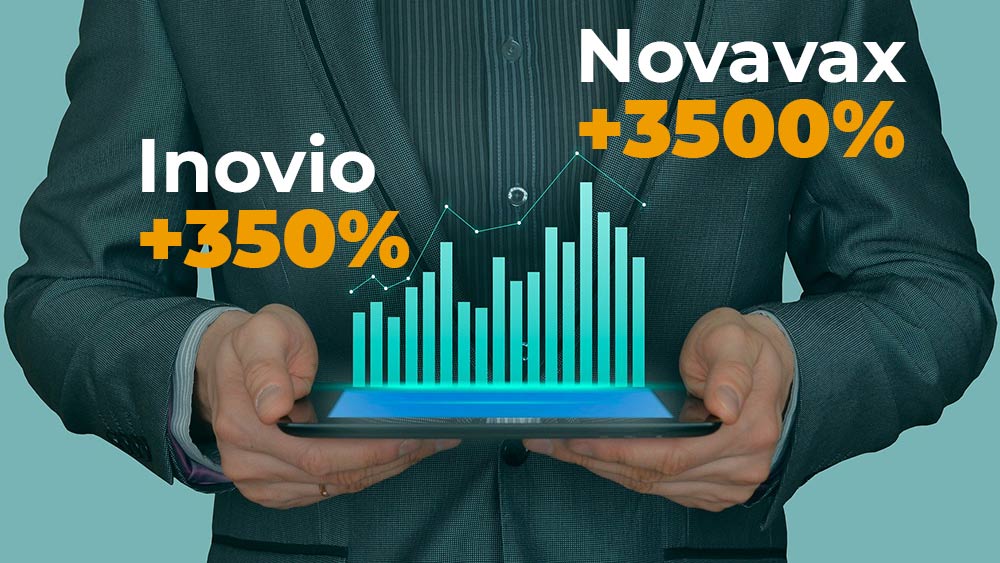 Source: DeltaStock

Reading time: 6 minutes
With over 34 million infected and 1 million deaths globally, the race for who will first develop a suitable vaccine against the coronavirus is more disputed than ever. At the moment, thousands of investors have flocked to the biotechnological sector where, according to the World Health Organization, as of July there are 173 potential vaccine developers hard at work, while research expenses have reached billions of U.S. dollars.
This is a completely expected and understandable course of events—everyone on this earth wishes to put an end to the general uncertainty and go back to their old way of life as soon as possible. Because of this, the shares of both established pharmaceutical giants and up and coming biotech startups have reached dizzying new heights.
For instance, the American company Moderna, whose vaccine has already reached the third and final phase of the clinical examinations, has reported a quadruple increase in the price of its shares: valued at "just" $8 billion at the start of the year, by the end of July the company's value soared to $32 billion. Other companies, such as Inovio and Novavax, have also reported just as amazing gains of 350% and 3500%, respectively.
Why is there such a big appetite for biotech shares?
Traditionally, the development of a single vaccine takes about 10 to 15 years on average. For example, in order for such a product to be released in the EU, it first has to successfully pass three stringent clinical phases:
– Phase I: researchers check if the vaccine is working at all and whether it leads to unwanted side effects in patients
– Phase II: scientists determine the optimal dosage, document the most frequently observed, short-term side effects, and monitor the vaccine's effect on the human immune system
– Phase III: the vaccine's effectiveness is evaluated, the most common side effects are documented and a verdict of whether it's safe for the general public to use is released
The results are then submitted to the respective regulatory authorities who then allow the vaccine's distribution and usage, but only if the benefits of the vaccine outweigh its risks.
However, given the current urgent circumstances, these phases have been significantly shortened specifically for the development of COVID-19 vaccines—something that worries many health professionals as a premature vaccine release could lead to a product that is inefficient at best and detrimental to patients' health at worst.
"Historically, it would have taken 10 to 15 years to develop a new vaccine, and now there are companies in Phase 3 of the studies just six months after the pandemic hit the United States."
Andy Acker, biotechnology specialist at Janus Henderson
Analysts: the market is starting to resemble a financial bubble
As we speak, thousands of investors are aiding the pharma industry with the hopes that the sector will thank them back with a quick ROI. According to financial experts, however, shares in the sector have long since exceeded the reasonable price threshold. Many also hold the opinion that this type of investment, just like those in electric cars and solar technologies that came before it, is quickly turning into a high-risk financial bubble which is on the verge of bursting.
"When you buy a biotech company, you're essentially buying a lottery ticket. There will always be investors looking for easy profits. It was the same with the internet bubble, with solar energy, with electric cars, and now with COVID-19."
Gregory Volocaine, portfolio manager at Meeschaert Financial Services
According to Adam Barker, an analyst for Shore Capital, the development and distribution of any medicine or vaccine costs about $2 to $3 billion on average. At the same time, the chances for a vaccine to pass Phase 3 are under 10%. Another concern is that the presence of government-backed vaccine creation efforts could distort the market as this allows smaller companies, like Moderna, to compete with giants like AstraZeneca, Gilead Sciences, Merck & Co, Pfizer, and others. The latter could lead to an increased risk of developing an ineffective vaccine.
An example of such a state-backed company is Moderna. Earlier this year, the U.S. government invested close to $2.5 billion in the startup in order to speed up the research in this sector and to reserve vaccine doses. Last, but not least, due to the strained economic environment and the efforts to speed up the creation of the most efficient vaccine against COVID-19, the market is extremely vulnerable to volatility spikes.
"Investing in pharmaceutical stocks can be risky and it is difficult to predict which company will eventually create the best vaccine. Stock prices can rise or fall extremely quickly even from the slightest of rumors."
Sheena Berry, analyst at Quilter Cheviot Investment Management
Let's take another look at Moderna: despite being directly financed by the U.S. government, halfway through May its shares tumbled with close to 11% in just a day due to reports that its vaccine treatment has led to significant health issues in patients. Similarly, the per-share price of Gilead Sciences also declined after it was found that their medicine Remdesivir, which was tested on a wide range of patients, showed only minor symptom improvements.
What is the takeaway from all this?
By all accounts, it seems that investing in a vaccine against COVID-19 is a high-risk strategy that in no way guarantees investors a high return. One reason is that there is a high risk that the U.S. and other governments will intervene and limit the profits made from vaccines in order to make them more accessible to the general public.
In addition, it is very unlikely that a single competitor will "win the lottery ticket". A much more likely scenario, according to analysts, would be for several companies to develop successful vaccines and share the profits. Thus, profitable companies are very likely to produce vaccines under a license agreement with their manufacturing partners.
Last but not least, vaccine profits are likely to be limited for as long as the pandemic rages on. This is because successful companies will likely need some time to recover from the high costs that went into financing the vaccine's development and production cycles. The production capacity that will be needed to deliver an unprecedented volume of doses worldwide must also be taken into account here.
None of this, of course, necessarily means that this investment is not worth it, quite the opposite in fact. However, experts in the field advise to think in the long term and focus on shares whose price remains relatively stable even after the imminent market sell-off, as it is unlikely that any company could provide investors with quick and secure profits anytime soon.
***
Ready to take advantage of price movements in the biotech sector? With DeltaStock, you can trade CFDs on the shares of leading biotech companies like AstraZeneca, Novavax, Pfizer, Merck & Co, Gilead Sciences, Vertex Pharmaceuticals and many others. Trade now in a real market environment and without any risks of losing your funds with a free demo account, loaded with €10,000.